"Education is not the learning of facts, but the training of the mind to think."

― Albert Einstein
WHO WE ARE
IEEE CIS SBC - GHRCE is a Student Branch Chapter of vibrant IEEE members with the sole mission of promoting Computational Intelligence technologies that are of social importance benefit to humankind. By conducting several unique workshops and events, we not only work for the betterment of society but also for individual development from learning new technical skills to developing leadership quality. We also encourage women to showcase their amazing skills. We are volunteers with a mission to promote technological development by bringing people together and a vision to create an ample amount of opportunities for sharing knowledge, technical skills and to collaborate and increase your network for a better future.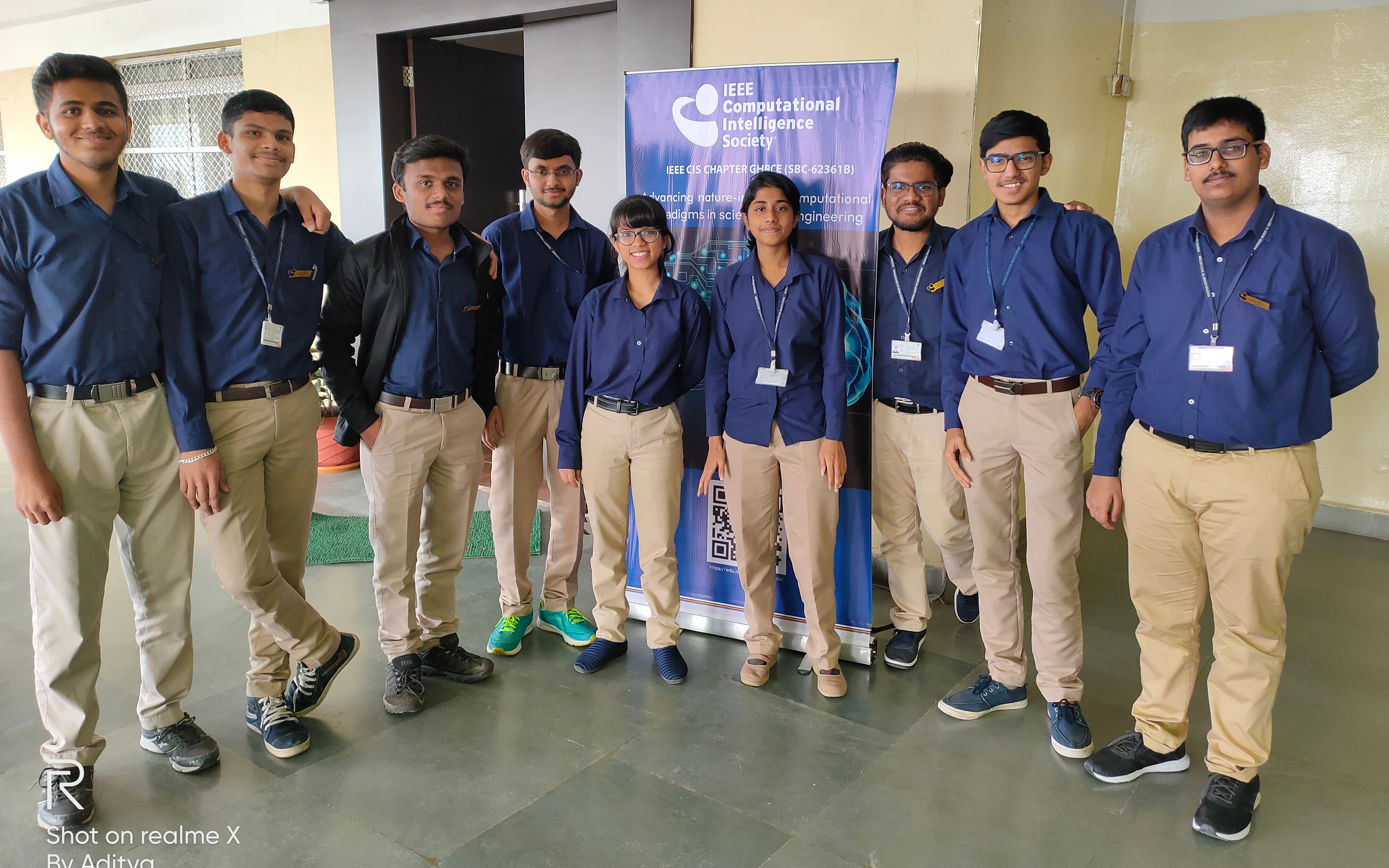 Network Enhancing
where members get to increase their knowledge by connecting with industry people.
Develop soft skills
Opportunity to learn leadership skills in leading technical workshops.
Workshops
To help students to improve their skills and develop thier professional identity.
Professional Growth
Encouraging members to build and own their careers and to give back to society.
Projects
Opportunity that belongs innovative projects carried out throughout the session.
+
Research Papers by members
+
Funding Grants Received
She Codes
SheCodes was an exciting platform for women to Explore, Collaborate & Deploy Machine Learning algorithms in Real life application. The efforts were being made by SheCodes to "Bridging the Gender-gap" towards technology and bringing out the creativity and innovation among women.

SheCodes provided useful skills to start new journey toward Artificial Intelligence and Machine Learning that helped to cope up with the upcoming technological advances.

View Details
She Hacks
SheHacks was a hackathon exclusively for women to give them an opportunity to showcase their amazing skills. It was an opportunity to win and to show that women can Analyse, Create and Deploy solutions of real life problem statements.

SheHacks invited the teams to take part in this Hackathon and gave them an exhilarating chance to showcase their versatility in finding an approach to solve Real life problem statements.
View Details
Tech Convocation
Tech convocation was an exhilarating platform to showcase participant's cognizance about Artificial Intelligence in various disciplines.

Participants shared their opinions about AI and boosted their knowledge in different aspects of Artificial Intelligence and it's applications. It was a new journey towards AI, ML, DL and many more hot topics that helped to cope up with the upcoming technological advances. The top three winners were awarded with prizes worth $600 (USD).
View Details
Participants Feedback
Testimonials
It was an Iconoclast experience having an interaction with all fellow global delegates. We are still connected altogether and credit goes to IEEE CIS Chapter - GHRCE for arranging a convocation based on the visions of diveristy & inclusion. Kudos to the hard working team behind the scenes!
Raja Ahmed
TechConvocation participant
SheCodes had thrilling quizzes every weekend which I actually anticipated, SheHacks was an ocean of opportunities and TechConvocation had people from all over the world. I am glad I took part in all these events. I did learn a lot and have dozens of fond memories from these events!
Prakriti Sharma
SheCodes, SheHacks and TechConvocation participant
Being a part of SheCodes was a wonderful experience in which I got to learn a large variety of machine learning concepts from basics to advanced. They helped promote the team building skill by making us do projects in groups wherein I got to meet many amazing people.
Kritika Shah
SheCodes participant